Are you looking to add an extra layer of security to your online exams in Moodle? Schoolyear offers a seamless integration that allows you to secure your quizzes with ease. In this step-by-step guide, we will show you how to enable Schoolyear for your quizzes in Moodle, ensuring that your exams are conducted in a secure and tamper-proof environment.
Step 1: Log in to your Moodle account and navigate to the "Edit Mode" located in the top right corner.
Step 2: Create a new quiz in Moodle or navigate to the "Settings" of an existing quiz.
Step 3: In the "Timing" section, set an opening and closing time for the quiz. Note: The opening and closing windows should be within a maximum of 24 hours of each other.

Step 4: Open the "Extra Restrictions on Attempts" tab and select "Enabled" for the option "Schoolyear Exams."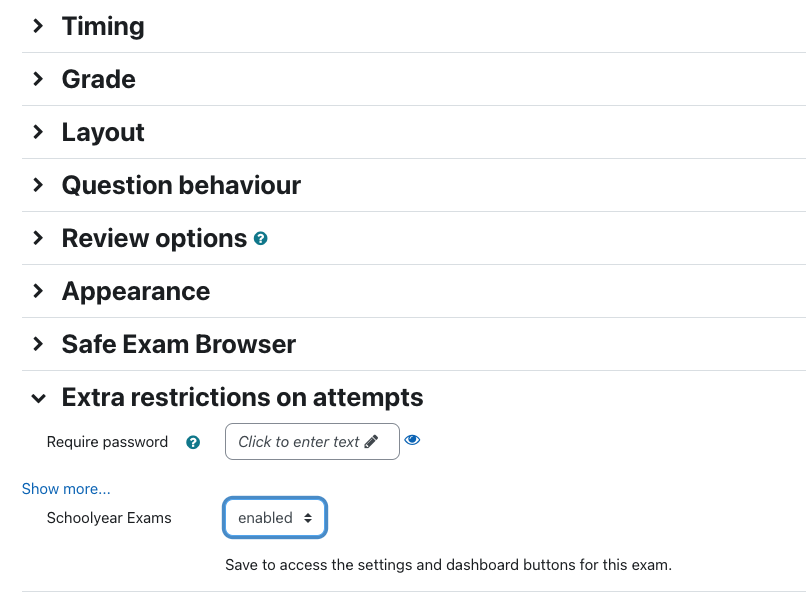 Step 5: Click "Save" to confirm the changes. You have now enabled the quiz with Schoolyear and can exit the screen.
[Optional]
Step 6: Once you have saved the settings, two new fields will appear. You can open the settings widget to add additional content to the exam or you can open the Schoolyear Dashboard.